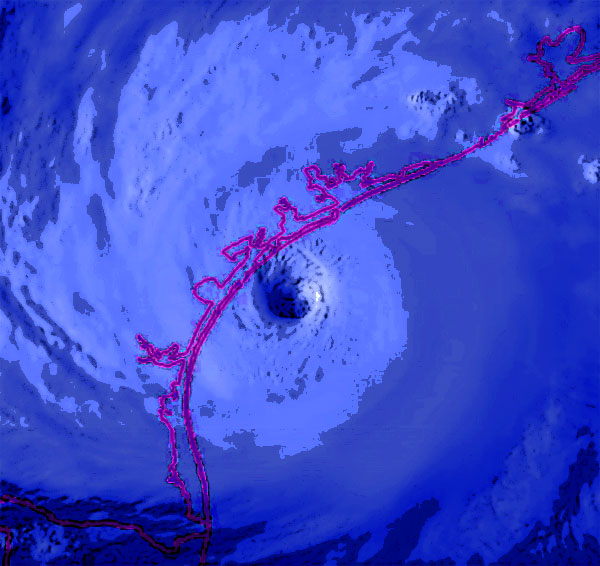 Hurricane Harvey, a Prophetic Sign of Things to Come
By Nathan Leal
Hurricane Harvey came from nowhere and is now wreaking havoc in Texas and Louisiana. The damaging wake of the storm covers hundreds of miles, and is leaving a swath of brutal destruction. Many cities and towns have been affected and the tally of destruction is going to be one of the developing stories in the days and weeks ahead.
Corpus Christi, Texas is reeling from damage and flooding. Rockport, Texas has become a wasteland and left many in tears.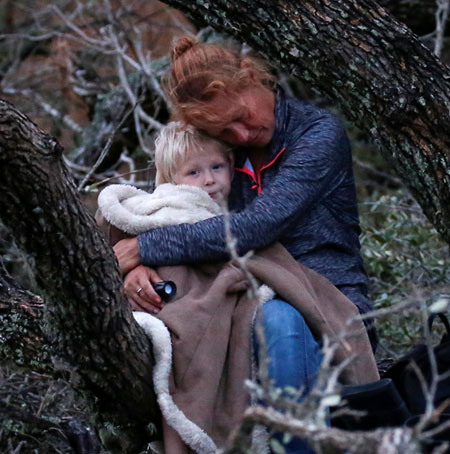 One of Harvey's biggest victims is the Houston area, which is experiencing catastrophic and unprecedented flooding. Weather agencies are saying that this weather event is developing into one of the worst floods in American history, if not the worst!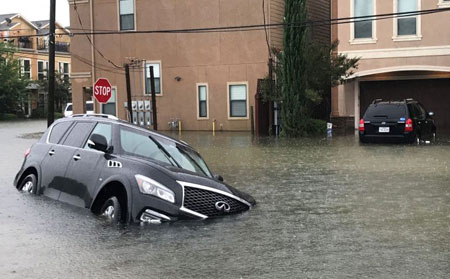 Two feet of rain has already fallen in Houston, but because Harvey's movement stalled, the rains are going to continue through the coming week. The latest computer models are predicting that Harvey may move back toward the Gulf and restrengthen. Then he will go North towards Houston, which will add more flooding to their already saturated conditions.

By the time the storm is finished, Houston is expected to get between four and five feet of rain. These numbers are staggering and hard to comprehend.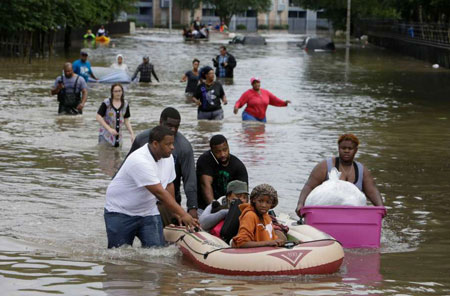 Thousands of people have been rescued from flooded out homes, but tens of thousands of victims remain in stranded in flooded homes without help.
This includes nursing homes. The image below really took place. The picture says it all!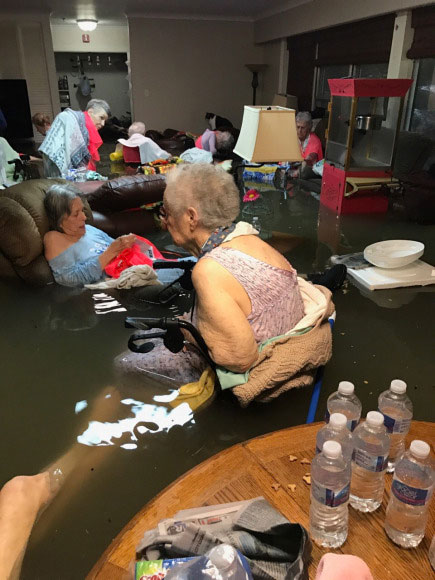 Residents of La Vita Bella nursing home in Dickinson, Texas were trapped due to severe flooding from Hurricane Harvey on Aug. 27. 

 

Trudy Lampson
The Impact
The storm is going to leave lasting impact for years to come. Fuel prices will likely rise, because one third of America's fuel refineries are located just north of Houston in the Beaumont, Port Arthur area. The economic costs are going to be in the billions of dollars. Houston alone may have $40 billion in damage.
Why is this happening?
In the natural, many would consider this to be just another storm. But when we look at how fierce and unrelenting it has been, as Christians, we must take a second look. I have done that, and I believe that there is a huge prophetic signature on the storm.
My friends, the storm contains a spiritual message. How can I be so sure? Because Jesus mentions, that there would be signs in the heavens, and he also challenged those around him to be discerning of the signs of the time.
Hurricane Harvey is a Prophetic Sign
The name Harvey is derived from several Old Breton sources meaning – "iron" and "blazing."
It also means, 'battle', 'carnage' and 'worthy.'
When we combine all of the derivatives, Harvey means – blazing – iron – battle -worthy for carnage.
I find this interesting, because Harvey has brought carnage to the Gulf Coast like a hot iron that is presently blazing over Houston. And like an assassin, he has chosen Houston for his battle. But it doesn't stop there.
Corpus Christi
Harvey made landfall by targeting Corpus Christi, Texas.
Corpus Christi is Latin for the body of Christ.
Harvey's development was quick. It was the heat of the Gulf waters that enabled his strength. The Gulf waters were blazing. Again, it is interesting that Harvey's name reflects this. His formation took advantage of the hot Gulf waters that fed him, and within 48 hours, he became a category four hurricane.
The Prophetic Sign
Harvey introduced himself to the residents of Corpus Christi and wreaked havoc.
Do you see it brethren? Hurricane Harvey, began his carnage to a city called – "the body of Christ." And after chastising them, he turned northward toward Houston where he is now delivering carnage.
For those who have the eyes to see, this weather event is a huge prophetic sign!
What is it? In summary, America is now under judgment. This weather event reveals it. Biblical judgment always begins in the house of God first.
First Peter 4:17 tells us –
"For the time is come that judgment must begin at the house of God: and if it first begin at us, what shall the end be of them that obey not the gospel of God?"
According to the above passage, when God judges a land, he always begins with his people. Hurricane Harvey did exactly that. It made landfall and harassed Corpus Christi, or "the body of Christ."
This is a prophetic sign of God's judgment beginning in the church. But make note that Corpus Christi escaped the catastrophe that Houston is facing. Yes, Corpus Christi received damage, but not on the scale that Houston is undergoing. Houston represents the general population, and Harvey is buffeting Houston relentlessly.
Look at the verse above again. Judgment begins with the body of Christ, but after that, the judgment turns toward the regular folks who do not obey the gospel.
Harvey is a sign of the coming judgment, and yet, Harvey is also a part of the present judgment.
Make note ladies and gentlemen, the storm is a sign to God's people. Very dark days are ahead. God's judgment is going to be poured out on America.
For those who would argue that America's greatest days are ahead, or that MAGA (Make America Great Again) is in play, just take a look at Houston, Texas right now.
Houston is experiencing judgment my friends. But this is just the beginning. The judgment over America is going to take place in four categories. I call this the four fold judgment. The categories are – famine, the invasion of evil, pestilence, and war.
A weather pestilence is presently infecting Houston. There can be no denying it.
What does it mean? What do we do?
My friends, judgment does not mean God hates us. God uses judgment to bring wayward souls back to Him.
Isaiah 26: 9b says…
"…for when thy judgments are in the earth, the inhabitants of the world will learn righteousness."
This is the word of God folks. Judgment is meant to bring people to repentance. And that is our assignment. Everyone reading this needs to examine their life. All of God's people need to get their lives in order. Those who are away need to return to their first love. We need to take inventory my friends.
It's time to clean out the closet, and forsake those things that beset our faith.
More judgment events are coming, and while they are taking place, God wants His people to become refined.
This is why He says that judgment begins first with the body of Christ.
Will God's people heed this message?
It's time folks. Jesus is waiting.
In His service,
Nathan Leal