Announcing Nathan Leal's Watchman's Cry
Crusade Revival Meeting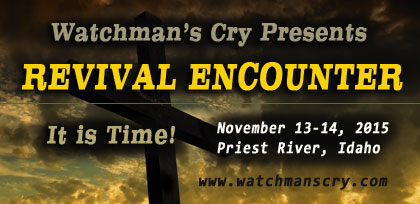 ---------------------------------------------------------------------------------------------
IMPORTANT - If you would like to attend, please register at link below. The cost is free.

We have scheduled our first meeting.
It will take place on Friday and Saturday night, (November 13 -14, 2015.) The meetings will start at 6 pm and go to about 10 pm on both nights.
The Meeting are for those who are hungry and starving for a touch from God.
Are you hungry for a touch from God? You are not alone.
Are you tired of going to church and leaving the service feeling empty? These meetings will offer those who are thirsty a drink from God.
In this late hour, there are many people who are struggling in their relationship with Jesus. Some people may even be dwelling too far away from Him.
It happens...
...a few bad choices.
...a little bit of wandering from what is right and before a person knows it...
...they are away from God, in a manner that was not planned.
...and sometimes for some people, trying to return to Him or recover can be difficult....and hard.
Can you relate to these words?
So what is a person supposed to do?
Beloved, this is what these meetings are about.
They are about offering restored strength and spiritual health to those who are starving for God. They are also about returning to our first love. The meetings will minister to those who are tired of tolerating the "so called" Christian status quo in their lives.
What to Expect
God's power and presence is going to visit our meeting place and touch lives. His anointing is going to show up and heal souls. We will also offer an atmosphere of old fashioned praise and worship...the way it used to be.
So my friends, come expecting...and come hungry.
World Events
Folks, things are getting pretty "dicey," in the world stage. The next World War is very close. Russia, China and Iran are mobilizing in Syria. The climate for peace is deteriorating. I find myself wondering how long it will be until real war breaks out between the USA and Russia...or China.
When it breaks out, will you be struggling or victorious?
It's Time
It is time for revival. Many of God's people need to be set free from the vices and weights that are besetting them.
The meetings will offer an atmosphere of old fashioned Holy Ghost worship and preaching. If you attend our services, you will hear a message of revival, restoration and renewal. These meetings will bring an atmosphere of God's presence and a chance to have a REAL encounter with Him.
This meeting is set to take place in Priest River, Idaho.
Location:
Priest River Event Center
5399 Highway 2
Priest River, ID 83856
It will occur on November 13-14, 2015
The schedule will be: (Note the times are approximates.)
6 pm - Benjamin Baruch Speaking
7 pm - Praise and Worship - Old fashioned Holy Ghost Worship Music - Campmeeting Style
8 pm - A Revival message by Nathan Leal which will be followed up with an old fashioned altar call where God shows up and ministers and heals people.
By the way, do you remember the old fashioned revival services from the old days?
...I do.
This is what we are after. And this is what I want to see. I hunger to the power of God's visitation.
...It is time folks!
So if you miss this type of meeting, show up and have church with us. I also would ask that those of you who can, to begin praying that God will visit us in a mighty way.
In the coming months, I would like to visit several nearby cities including if God wills it; Seattle, Spokane and the tri-cities (WA). From there, it may be other states like California. In the Spring I will be in Texas, so we will see which doors God opens.
But for now, our first revival will be an event in Priest River, Idaho. Just a few weeks ago we had the Sandpoint, Idaho Conference where God moved mightily. I expect to see similar results in this upcoming event. If you live in the region, please start making plans to be there. I want to see the placed packed out and overflowing. Feel free to invite loved ones and those who need a touch from God.
The meetings is free to attend but we will be taking offerings to help cover the costs of this and future events which are in the thousands of dollars.
We will be using an online website to help us keep track of attendance so that we do not overbook. The website is called Eventbrite.
--------------------- NOTE IMPORTANT ----------------
If you want to attend PLEASE RSVP at the site found here.
---------------------------------------------------------------------------------------------------
Lodging....Hotels and Motels?
If you are coming from outside the area, there are many motels and hotels scattered throughout the region; from Spokane, Washington (which is where the airport is) ...to Priest River and Sandpoint, Idaho.
Spokane is 39 miles south of Priest River.
Sandpoint is about 25 miles to the East.
There is also the towns of Coeur d'Alene, Hayden, Spirit Lake and Rathdrum, Idaho to the south.
So there are many lodging choices. One just has to decide where they want to stay. Priest River has a motel called the Eagle's Nest Motel.
A New Chapter
Watchman's Cry is entering a new chapter of ministry and I am excited to be a part of what God is about to do. If you have any questions, please let me know.
In His Service,
Nathan Leal
Watchman's Cry
--------------------------------------------------------------------------
If you want to be notified when transcripts, articles and programs are released, please subscribe to new alerts.

To contact Nathan Leal – contact
--------------------------------------------------------------------------------------------
Brethren, our ministry is Watchman's Cry. If you appreciate our vigilance, let us know with your Support.
Our address is Watchman's Cry, P.O. Box 157, Priest River ID 83856.