Watchman's Cry Alert – A Prophetic Warning
The Coming Crash & Collapse of America
---



Nathan Leal – October 13, 2014
My friends, the unraveling is upon us and the days of dread are approaching. I am sending out this alert as a warning to those who have the ears to hear.
On October 11, 2014, I had a prophetic glimpse of things that are coming to America. These things are not easy to talk about but as a watchman of God, I need to share them with everybody. After you read this, please seek God for counsel and wisdom so that you will know what to do to prepare yourself and your family.
The Dream Begins –
I was standing in the downtown area of a very large city in America. I do not know what city it was. I was looking towards the north at the skyline before me.
Suddenly, I saw a white passenger airliner flying sideways. It had no markings. It was approaching from the east and went west with its left-wing pointing towards the ground.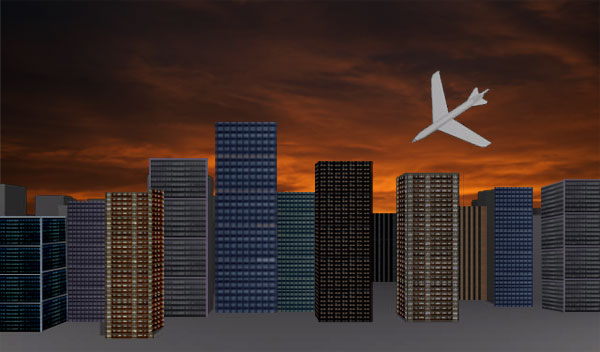 It was in a steep dive. It disappeared behind a building that was about a half a mile in front of me. I then saw a huge fireball followed by a loud explosion.

I ran towards the crash. Instantly, I was inside a very tall building and looked outside of the window to the street below. Many of the buildings within a half-mile radius had extensive damage. The windows were blown out of many of them. Some of them were leaning. Some of the buildings had half of their structure missing.
One of the buildings that stood out was very odd looking. It was about 20 to 30 stories tall and looked like it was made out of grain silos. The silo building had sustained much damage. It had huge holes in the sides. Much of it was leaning.
There was no grain inside of it. It had been emptied.
I kept staring at this odd building and wondered about it. It had a large sign on it but I could not make out what it said. There was smoke and dust everywhere.
The damage was incredible. I could not see any fragments of the plane on the ground, nor did I see a crater on the street. I did not know how a plane crash could have done this.
I then found myself on the street below.
It was one of the main downtown streets going in one direction several lanes wide.
I suddenly saw a large rocket fall straight down from the sky. The rocket was red, white and blue.
It came out of the sky, with its nose pointing downward. It was about 50 feet in length. When it hit the ground, it broke into many pieces. But there were no flames.
In the mayhem, I could hear people running around screaming in panic.
As I looked at the street where the rocket crashed, I heard screams that something else was falling from the sky. I looked up and saw the falling object. I got out of the way. It came out of the sky and landed on the street with a thud!
This one was also very odd.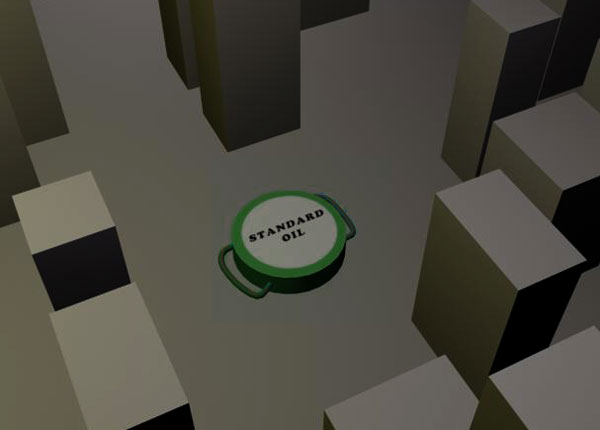 It was a giant electric sign. It was round like a giant pocket watch. It was between 20 and 30 feet wide. It was about 10 feet thick and it was painted green. As it hit the street, I saw the words "Standard Oil" on the face of it. The sides of the sign had green handles made out of re-bar.
I did not understand why a giant sign fell out of the sky. But when it hit the ground, there was a very loud sound of crashing metal which shook the ground.
The people in the buildings began to panic because they were thinking that something else was going to come out of the sky and crush their buildings. As a result, all of them ran into the streets not knowing where to hide. They were in the thousands…and they were screaming and crying!
In the mayhem I wondered what was coming next. I also wondered if I was safe inside of the building where I was.
The dream was over. ——–
When I awoke, I shared the dream with family and friends. I have also been seeking God about it.
Ladies and gentlemen, based on what I have uncovered thus far, I believe that this prophetic dream is a dire warning of things that are coming to the United States of America!
When these things arrive, they are going to be met with horror and panic. My prayer is that these words will help to stir people to prepare their hearts now!
Interpretation
This dream has several layers so I want to break it down. Note – regarding prophetic dreams from God. At times they are symbolic as well as literal, therefore I will do my best to identify the two parts. I believe that this dream is loaded with symbolism to warn of literal events.
The White Plane
The white plane that I saw at the beginning represents several things. It was unmarked! It was also white. Why is that?
I believe that the color white was its mask to deceive the masses.
Revelation 6:2 tells us that the endtime deceiver rides on a "white horse."
"And I saw, and behold a white horse: and he that sat on him had a bow; and a crown was given unto him: and he went forth conquering, and to conquer."
The plane in this dream was white. Its color signifies that its payload is a deception of good when in reality, it will bring forth death!
As I watched the plane, it was in a quarter turn with its left wing pointing down. The left wing of the US is presently guiding Nation America into chaos and destruction with bizarre policies of insanity.
These policies make no sense to the educated and wise observer. But they are blazing forward with little opposition from Snooze-Ville USA.
My friends, please let these words sink in! American cities are facing an attack right now! As this thing progresses, it threatens to infect every corner of America.
Now I must qualify and stress that these attacks will continue to take place if America does not turn her heart back to God.
Will America turn? Sadly not yet. What will it take? You ready for the truth folks? In order for America to turn back to God, it's going to take the stench of decomposing carcasses laying in the streets of the USA!
In the aftermath there will be tears! Therefore the attacks are mounting and preparing to arrive! They are going to be terrorist related.
Therefore, I believe that in the coming future, planes will be used to bring a destructive payload to the US. These payloads will consist of various things that will cause damage.
But the question is what kinds of things?
Please make note that there are a few missing planes in the logs of the past. Will the missing Malaysia planes be used?
I do not know. The plane that I saw had no markings. So it is possible. I believe that the payload could consist of several of the things mentioned including an explosion caused by a nefarious suitcase that could be delivered on a plane.
Based on the damage that was inflicted on the downtown buildings, what I saw was not a regular explosion from a crashing plane. The damage appeared to be greater than a regular explosion because the blast radius was at least half a mile and many of the buildings were destroyed. This concerns me because only a very powerful bomb on the plane could do such a thing. Also make note that the plane was approaching from the EAST.
ISIS is from the east.
Therefore, the first warning of this dream is that one or more terrorist attacks are coming to America. But I do not think that they will be liminted to a suitcase on a plane. The attack will arrive through "travel."
It will come into America by people and planes traveling into the USA. They will also enter through the open borders of the South.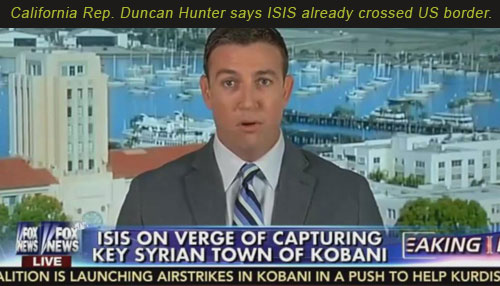 Again, the plane represents several nefarious episodes that will bring much harm to our country.
The damage will be extensive!
Which brings me to the destroyed grain silo. As I looked at the Grain Silo Building, I noticed that it had a large SIGN on it. In the dream I could not read the sign and I do not think that God wanted me to read it but instead to SEE it!
The destroyed Silo was the sign! And it had a very important message.
A grain silo represent food and the ability to get food. It also represents the price and scarcity of food.
This destroyed building was the first thing that I noticed meaning famine is coming to the USA. It will not be a conventional famine but a famine caused by the payload of the crashing plane. This means that food will become scarce and hard to get. The silo was empty. The food was gone!
Ladies and gentlemen, I want this warning be very clear.
In the coming future, there is going to be a time where Americans will not be able to obtain food! What could cause this?
It could be a variety of things – Tainted Foodstuff, Martial Law, Transportation Lockdown, Quarantine zones that limit travel, Lack of man power, widespread sickness, Out of control prices, etc.
I do not know that exact reason but the bottom line is that there is going to be a judgment of famine in America.
When this happens will you be ready? How long could you survive with the things in your pantry?
The time to get ready for this was last month, last week….even YESTERDAY my friends!
Please do not take these words lightly. The end result of these events is going to be absolute mayhem! I saw the people panicking, screaming and crying.
Then the next part of the vision occured…
The Rockets Red Glare
After the plane crashed, a red, white and blue rocket fell out of the sky.
It came down nose first and shattered on the street. There was no explosion, just a lot of pieces. This rocket represented the United States of America. And to be more precise, it represented the pride, power and glory of the USA. But in this dream the rocket ship of America hit the ground and broken into many pieces.
This means that after the arrival of the planes payload, America is going to find herself broken of her pride and power. America's pride and power spans many areas including: the military, the economy, and her status in the world.
My fellow Americans, these things are going to come crashing down for homeland America. When it occurs, there will be great panic and weeping.
I saw many people running around screaming, not knowing what to do. This is going to play out from coast-to-coast. In big cities as well as little cities, there will be great panic that will ensue. Panic will be one of the elements that causes the nation to stampede into delirium.
When panic arrives, the loss of self control will overtake many people into doing crazy and bizarre things.
Fear and desperation will become a frenzied tiger that causes many cities to collapse into utter darkness…and death!
Standard Oil – The Petro-Dollar
As I was watching the chaos, the dream ended with a giant sign hitting the ground. This sign has great symbolism. It was painted green and it had the words Standard Oil on it.
To begin, it is very telling that this dream included two "literal" signs. I mentioned one earlier that was on the grain silo but then the dream ended with the appearance of another sign.
God often will use signs to communicate with us and this dream had two of them. Therefore I must stress that this sign is also VERY important!
In the dream, I saw a giant sign fall out of the sky. It had the words "Standard Oil" on it.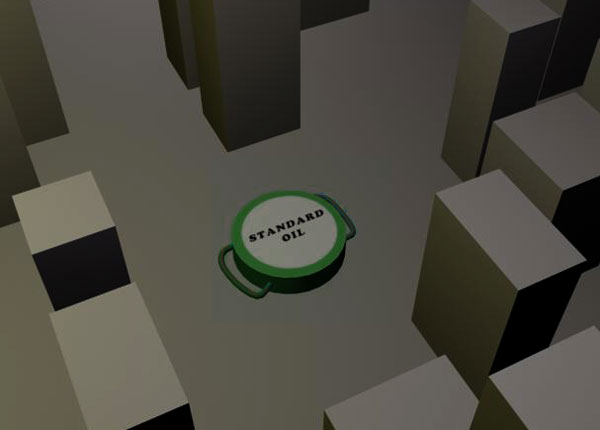 Standard Oil was one of the first corporate conglomerates in the early 20th century. It was owned by John D. Rockefeller and was a monopoly that controlled the oil market of the United States. During its existence. it was located in two cities, Cleveland, Ohio and New York City.
Sidenote – is this a hint of the possible locations of coming events? I do not know.
But Standard Oil eventually broke into the many oil companies that we have today. But this did not stop Rockefeller, he continued ownership of these companies through dummy corporations.
After World War II, the US Dollar became the world's reserve currency. This standard was established to create a petrodollar represented by greenbacks.
In other words, the US dollar became the money standard that would be used to buy and sell petroleum throughout the world. This arrangement is the main reason that America has prospered over the last few decades.
But ladies and gentlemen, this arrangement is coming to an end!
In fact it is already in motion, the nations of the world are making new arrangements to bypass the dollar and strip it of its reserve currency status.
That is what this dream represented. The petrodollar represented by "Standard Oil" is going to come crashing into the ground. I would not be surprised to see the oil markets become very erratic in the coming weeks.
Comment – watch the Oil Markets folks! This will be a SIGN that these things are upon us!
According to what I saw in my dream this is a multiple tiered event.
One – The plane was in a quarter turn with its left wing pointing down. The left wing of the US is presently guiding Nation America into chaos and destruction with bizarre policies of insanity. The final acts of destruction will include a terrorist attack to deliver a payload.
Two – Shortly after the attack, America is going to experience a crash. A crash of her world power status! This was what the falling rocket represented.
Folks. Please make note of this! America will no longer have the respect that she is used to having. Most Americans cannot imagine a world where America is not the top dog. But those days are coming to an end. This cannot be taken lightly, because without her power, the rest of the world will turn their backs on America.
The result of this will have a negative impact in many categories for the country.
American life will become dreadful. Many people will suffer in ways unrecorded in America's past. The nation will become crippled and the standard of living will decline into second and third world conditions.
The US Constitution will suffer a burial at sea by an undertow of desperation, panic and political upheaval
The crash will strip America of her first world economic status and begin the plunge where she will fall into the abyss of DESOLATION!
Three – In an almost simultaneous fashion, we will see the status of the US dollar as the world's reserve currency and petrodollar come to a halt. This will result into nationwide panic and then global panic! The panic will be to such an extent that people will be in utter delirium and not know what to do!
I do not have a date this event but I need to warn that is approaching. Based on current events that are developing daily, the time to prepare for this warning has a limited window.
Those who do not seek God for counsel and instruction will find themselves destroyed by the stampede of the chaos.
For those wondering what they need to be doing, your survival plan must include your spiritual health. Where are you with God right now? Are you where you want to be? Are you satisfied with your spiritual location?
My friends, your eternal soul is not a casino so please do not gamble with it! There are many people in the "awake" crowd who say they are preppers but still have not address all of their spiritual liabilities.
When I say spiritual liabilities, I'm talking about spiritual issues that have not been dealt with. To everyone who is reading this, you know what your issues are!
Where are You?
Paul tells us that we should examine ourselves to see if we are of the faith. It is easy for a person to say that they have faith but if they have not dealt with unresolved failure and sin, are they really a Prepper or Prepared?
Folks time is running out and I want to see all if you on the other side. So please make sure that you are getting your house in order. This includes encouraging your family and strengthening them in the things of God.
If some of you find yourself struggling with repentance, I have produced a series of messages and sermons that address these things with encouragement and hope.
The sermons are a part of my "For such a time as this." series. If you have not heard them I want to encourage you to listen to them. They are there to help those that are struggling and discouraged.
In closing, I want to encourage all of you to continue in your vigilance to do God's will and to be ready for these things that are approaching. I am going to be releasing a new message that talks about this in great detail. It is News from the Wall #20. It will be out soon.
Again, folks please do not delay your survival plan. If you have been planning to get a backup store of food…DO IT NOW!!! Do not delay. Whether it is store bought, freeze dried, etc. Rearranged your priorities and do this. A Famine is coming!
Please share this alert with everyone that you know.
In His Service,
Nathan Leal
Watchman's Cry