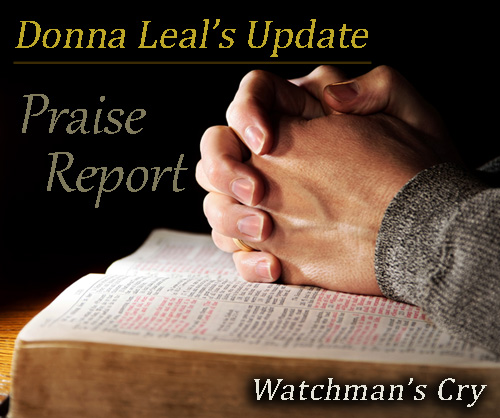 This is an update on Donna's condition. Late last week she was rushed to the Emergency Room with a hemorrhaging ovarian cyst. She did not know that she had a cyst but it ruptured and caused internal bleeding. After seven hours of examination, the doctors discovered it and began treating it. Aside from the rupture, the condition was starting to become infected.
Since then, she has returned home and has been in recovery for the last several days.
The first few days, she was very weak and in intense pain. She is on a regiment of medication to battle the infection.
Today, for the first time she was able to stand on her feet for longer than several minutes and she said that it did not hurt to take a few steps. Previously, every step was painful. This is a good sign.
She is still weak and exhausted but she says that she feels her strength returning.
The Leal boys (ages 22 and 16) and I have been taking care of her while she is recovering. This is a little odd, because she is the cook of the house, but we are soldiering through this with "men" recipes like eggs and potatoes, eggs and hamburger, eggs and cheese, and eggs with whatever is in the fridge. lol. The eggs are thanks to our chickens who have stepped up and supplied their bounty. But one day, we did fire up the Charcoal grill and eat hamburgers so it is all good.
Now that she is feeling better, I brought her into the dining room and she verbally walked us through her recipe of pasta, so "praise God," food has improved.
I still ask for your continued prayers on a complete recovery without complications and for God's provision.
We want to thank all of you for the prayers and show of support. The Leal family appreciates it. In the next few days I will be sending out an audio report and update.
With Thanks,
Nathan & Donna Leal, and family.
Watchman's Cry
---
Below is a song that I dedicate to our Lord in Thanksgiving for His mercy.