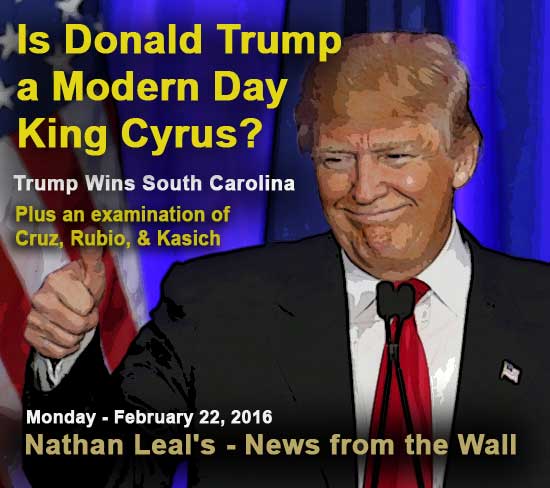 Nathan Leal's – News from the Wall
Donald Trump – Cyrus the Wrecking Ball
Attention: 
The latest audio release is an examination of the Republican candidates: Cruz, Rubio, Kasich and Trump, from a biblical point of view.
The South Carolina primary is behind us. Donald Trump was victorious. What does this mean? Is a President Trump possible?
Topics:
Is Donald Trump a modern day King Cyrus?
The Trump prophecy of the dominionist movement.
Trump the wrecking ball.
A Texas church prophesies over Ted Cruz.
An examination of Kasich, Cruz and Rubio.
The next president and the North American Union.
The next president and God's judgment.
What should the remnant be doing?
Donna Leal joins Nathan as they discuss these very pertinent topics that are going to affect all of us.
Please share it with your friends and your family.
Listen here.
(To listen, click on the links below. To save to your PC – right click the listen here link.)
God Bless.